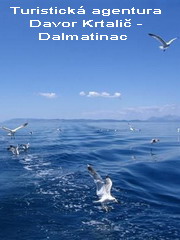 Davor KrtaliŠ - Dalmatinac

Zprost°edkovßnÝ obchodu a slużeb
460 14 Liberec - ╚eskß Republika
I╚O: 74465520

E- mail: dalmatinac@seznam.cz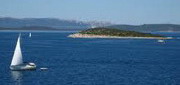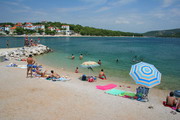 Agent from Dalmatia presents an offer for guests who want to go on a vacation in their own arrangement.

The offer consists of objects from all over the Dalmatia, carefully selected and satisfying conditions and criteria of modern tourism.
Short description with photos gives you, your family and friends opportunity to find out what a specific place offers, what can you see, have can you have fun, and how can you spend your vacation on the best possible way.

I live in Dalmatia, and I am familiar with it, so I will answer to all your questions and help you to choose a place for your vacation. All your additional questions please send to my E- mail and in very short time you will get an answer.

Dear clients, we will try to meet your wishes and justify your expectations, and therefor justify your trust given to us. Davor KrtaliŠ

Remember, Croatia has crystal clean sea, Mediterranean climate, sandy and stone beaches, and, of course, great cosine. Many people fell in love with Croatia, and they return here every year, just to feel warm sunshine, light wind in their hair, smell of pine - trees and song of birds. Here you have an opportunity to experience it by yourself.

Why use our services? Because we provide online directory of accommodation with all necessary information. Because we have to Rapo Lying 24 hours a day. Because we booked the apartment keys are not adopted by the reception, but you are waiting with our host welcomed. Because we care about you after your reservation until your return home and still stay in touch with you.
SPECIAL OFFERS

Private accommodation for your holidays in North Dalmatia:

Offer: By request!

The offer consists of 29 tourist places in Zadar's county and islands, and it includes more than 500 suites.

Number written near every place marks how many objects offer accommodation service.

Request for information for a specific place send to E – mail dalmatinac@seznam.cz

After sending your request, in a very short time you will get detailed information.

North Dalmatia

Kozino 1
Ljubac 11
Mali Losinj 1
Maslenica 1
Nin 6
Pasman Nevidjane 1
Petrcane 3
Pirovac 1
Posedarje 3
Pag Povljana 2
Pridraga 1
Privlaka 1
Rab-Barbat 1
Razanac 12
Rtina Benici 3

Rtina Miletici 7
Rtina Miocici 11
Rtina Stosici 2
Rtina Vrankovici 2
Sabunike 1
Seline 2
Sukosan 1
Ugljan-Kukljica 1
Ugljan Mala Lamajna 1
Vinjerac 1
Vlasici 3
Vrsi 3
Zadar-Diklo 1
Zukve 1
Weather
Dalmatia - Airport Split
Croatia
Middle Dalmatia - Map