Menu:
Apartments:
On-line booking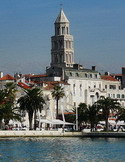 Designed by / Webmaster:
Davor Krtalić - Dalmatinac

Apartments - Holiday accommodations in Croatia - Vacation in Dalmatia - Adriatic sea!

HR CZ EN DE IT

Offer / Riviera Makarska - Baška Voda
Baška Voda: Apartments

Category: 3 stars ***

The owner of the apartments speaks: EN, IT

We rent: 1 apartment

Code: DK-Baska Voda-01

Description of the object and the environment

Distance from the sea

10 m
Distance from the beach

5 m
Distance from the center
100 m
Distance from the store

50 m
Distance from the restaurant
50 m
Beach type: pebbles

*

Yes

Parking space*

Yes
Allowed bringing pets

*

No
Use of the grill
No

Equipped kitchen
Yes
Bathroom
Yes
Air - condition

*

Yes
Terrace
Yes
Sea view
Yes
TV set

+

Satellite antenna
Yes

Wi-Fi internet

No
Phone
No

Heating

No

For more information and reservations:

Note:
* House: "first row to the sea"
* Pebbles - beach turns into sharp sand, so called žalo.
* Allowed bringing pets - By request

Note:
Payment in advance


*

Booking, payment of 100%
Middle Dalmatia - Riviera Makarska - Panorama Makarska

Makarska – it is called as the heart of the Makarska Riviera. The town is located below the Biokovo mountain and it is located 60 km South of the city of Split.
Near the coast there is a promenade with many restaurants, coffee shops, bars, Dalmtian konobas and this is a location to go out at night. Makarska offers different sports activities and many excursions. Historical center is typical with its narrow streets. Beaches are beautiful, made of pebbles and surrounded by the pine - trees. Makarska is wanted destination for a vacation because of its rich touristical offer of high - quality accommodation objects.
Middle Dalmatia - Riviera Makarska - Panorama Baška Voda

Baška Voda – fishing place that is very interesting touristical destination. It is located around 10 km North from the town of Makarska. Baška Voda offers to its visitors beautiful beaches made of pebbles with interesting entrances to the cristally pure sea. It has a large number of restaurants, coffee shops, disco - clubs, coffee bars and confectioneries. In the evening you can go for a walk through the promenade and enjoy in the evening fun. Lovers of walking can go all the way to the town of Brela, just walking near the sea.
Baška Voda - it is well known for its white pebble beaches surrounded with thick pine woods. But beautiful beaches, the sun and the sea are not the only things that Baška Voda has to offer to its visitors; guests have accommodation in private apartments and hotels at their disposal, as well as gastronomic, recreational and cultural contents, historical monuments and interesting cultural-entertaining events. Baška Voda has a little harbour and its southern part is suitable for vessels. This town is distinguished by its various offers which satisfy different types of guests and it is one of the most popular tourist destinations in Croatia.
Tourist agency Davor Krtalić - Dalmatinac